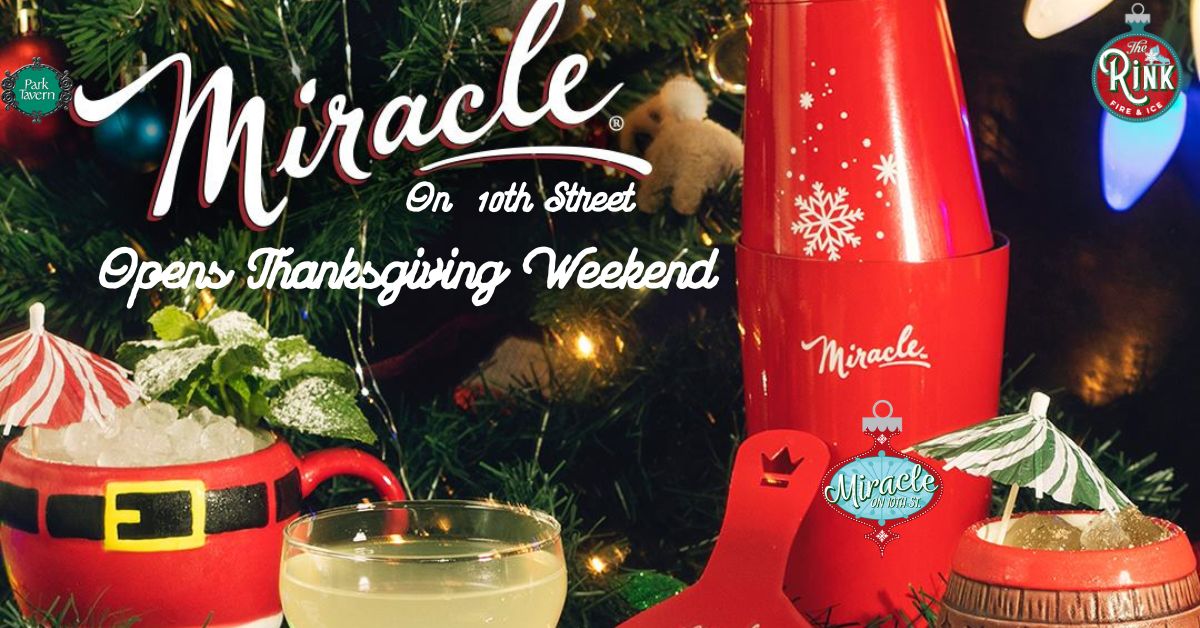 A Miracle on 10th Street Pop Up Bar At Park Tavern
984
984 people viewed this event.
Kick off the holiday season with a touch of enchantment at Park Tavern's beloved Pop-Up Bar event, "A Miracle on 10th Street."
As we approach Thanksgiving weekend, we're thrilled to announce the return of this festive extravaganza that has become an Atlanta tradition. Join us in celebrating the season with friends and family amidst the captivating ambiance of "A Miracle on 10th Street."

Rediscover Holiday Magic At Miracle on 10th Street, The Best Pop-Up Bar In Midtown.
This Thanksgiving weekend, we're bringing back the magic of the holidays to Park Tavern in Midtown Atlanta. "A Miracle on 10th Street" is the ultimate destination for watching your favorite sports teams, experiencing holiday cheer, kitschy & unique cocktails, and unforgettable memories.
The Experience
Immerse yourself in a winter wonderland adorned with whimsical decorations, which is perfect for capturing holiday memories with your friends and family. Our signature cocktails are crafted with a little holiday magic, including classics with a sometimes Naughty twist. If you are a Nice little elf, we have non-alcoholic beverages that will taste like you being a little naughty. Check out our events page on a regular basis to find out about our DJ dance nights, themed ice skating days and nights, special events, and more.
"A Miracle on 10th Street" is a family-friendly event, ensuring that everyone, from kids to adults, can partake in the holiday merriment.
Unlike some holiday bars, A Miracle on 10th Street offers spacious areas with various themes, ensuring that you have plenty of room to relax and enjoy the festivities. Whether you're sitting by one of our fire pits or fireplaces, hitting the ice with friends, or watching your favorite football team on one of the 20+ flatscreen TVs, there's a spot for you and your crew.
Dog-Friendly Fun:
Year-round, the Park Tavern welcomes your furry friends to join the celebration! Our expansive patio overlooks Piedmont Park and the Midtown skyline, providing a stunning backdrop for your holiday moments. Roast s'mores, catch your favorite sports teams, and enjoy special deals like Game Day Dip Deals, Taco Tuesday, Wine Wednesday, and rainy-day $1 drafts.
Make this holiday season unforgettable by experiencing A Miracle on 10th Street at Park Tavern in Piedmont Park. Bring your loved ones, including your four-legged companions, and immerse yourself in the magic of fire and ice. Join us for a celebration that captures the true essence of the holidays, creating memories that will last a lifetime. Don't miss out on this enchanting experience right in the heart of Atlanta!